High Quality and Smartly Designed Sound Absorbing Panels in Sydney
Acoustic Answers is a leading acoustic sound panel company operating in Melbourne and Sydney. We provide our smart and sleek sound absorbing panels to businesses, organisations, and educational facilities across these two cities. Our designs are the best choice for reducing unwanted sound and noise reflections and loudness in any interior location they are required.
Our designs, whilst being highly efficient in keeping out unwanted noise, are smartly designed to match the minimalist design of the modern facilities of Australia. Our STANDARD, EX STOCK* noise dropping collection includes lightweight acoustic absorbing panels.
Applications for our acoustic absorption panels and acoustic baffles include: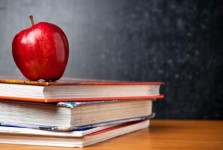 Educational
Learning, activity, common areas, auditoriums and lecture halls in schools, colleges and universities. Childcare facilities.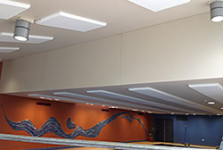 Community
Church and community halls and reception areas, retirement village chapels, dining and activity areas, airports and travel hubs.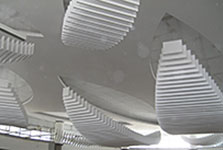 Entertainment
Restaurants, cafes, bars, clubs, art galleries, display and exhibition venues.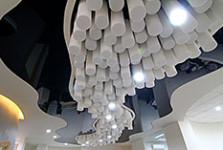 Commercial
Open plan office floors and call centres, offices, meeting and video conference rooms, kitchen/meals areas and reception areas.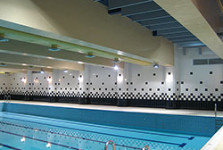 Sport and leisure
Indoor swimming and leisure facilities, sports halls and stadiums, dance and aerobic studios.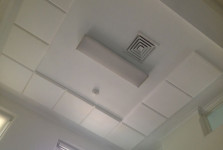 Healthcare
Waiting rooms, surgeries, hospital dining, education, research and laboratory interiors.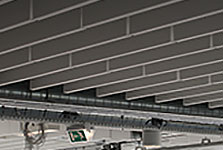 Residential
Open plan living areas and AV rooms.
Clients who have favoured our noise reduction panels for walls and baffles in Sydney and throughout Australia include:
Apple Stores Sydney-wide and nationally
RMIT Melbourne
Anglican Retirement Villages NSW
Holmesglen TAFE Vic
Kinghorn Cancer Centre Sydney
NSW Department of Corrective Services
Adherable with common construction adhesives
We use common construction adhesives when building our panels that come in coating colours of white, black, and pale grey. We supply highly durable, lightweight acoustic absorbing baffles and panels. We have easy choices for the suspension of our panels from our light gauge cables that come in a range of different colours.
Our noise reduction tiles come in a variety of face profiles, thicknesses, shapes, and fabric coatings.
Suspended acoustic baffles
Far lighter than the other suspension baffles currently available on the market, they are easy to install and eliminate the worry of exceeding the maximum construction weight when fitting. Our suspension baffles also come in a range of different customised shapes, colours, sizes, thicknesses, and textures/profiles. Able to be stalled vertically or horizontally and are ideal for areas that contain high ceilings.
Contact us for further information
Acoustic Answers are Melbourne and Sydney's leading acoustics installation provider. We encourage you to get in touch with us and find out more about the specifications of our product and its ability to greatly reduce unwanted noise in a space.
Call 0414 637 635 or send us a message and we will get back to you as soon as possible.